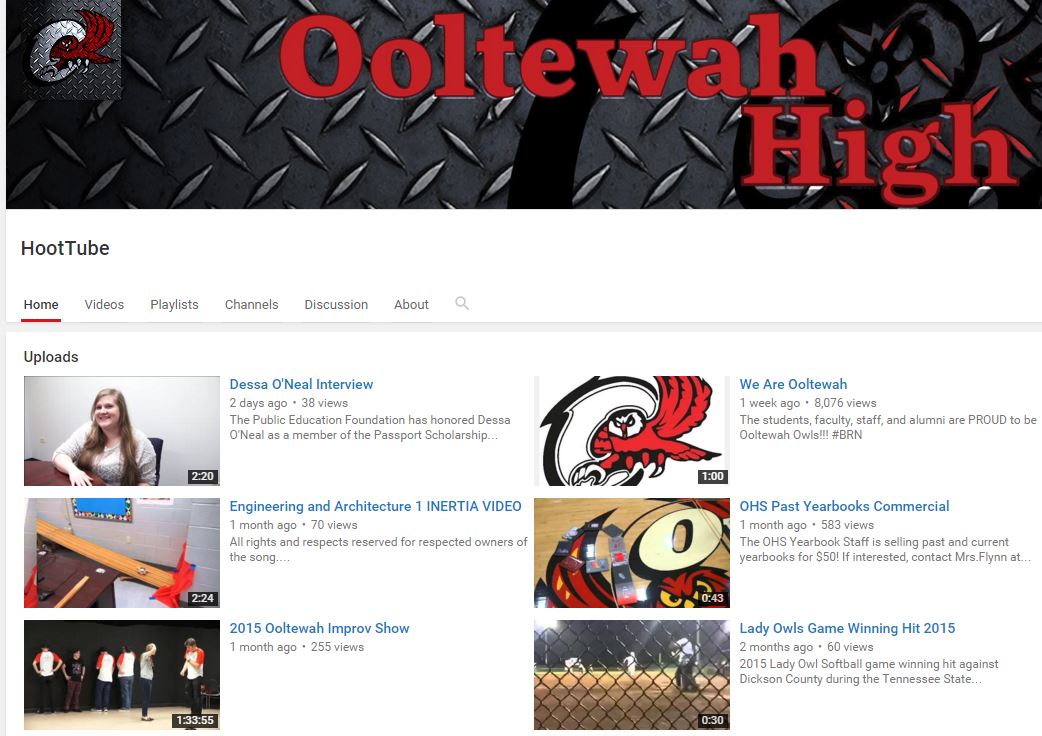 Click Above to find out what makes Ooltewah Great!
OHS Yearbooks for sale from the 80s, 90s, and 2000's! Click here for more information!
Click Here to purchase a 2015-2016 Yearbook ONLINE
FBLA Regional Competition
Congratulations to the Students, Athletes, and Teacher of the Month!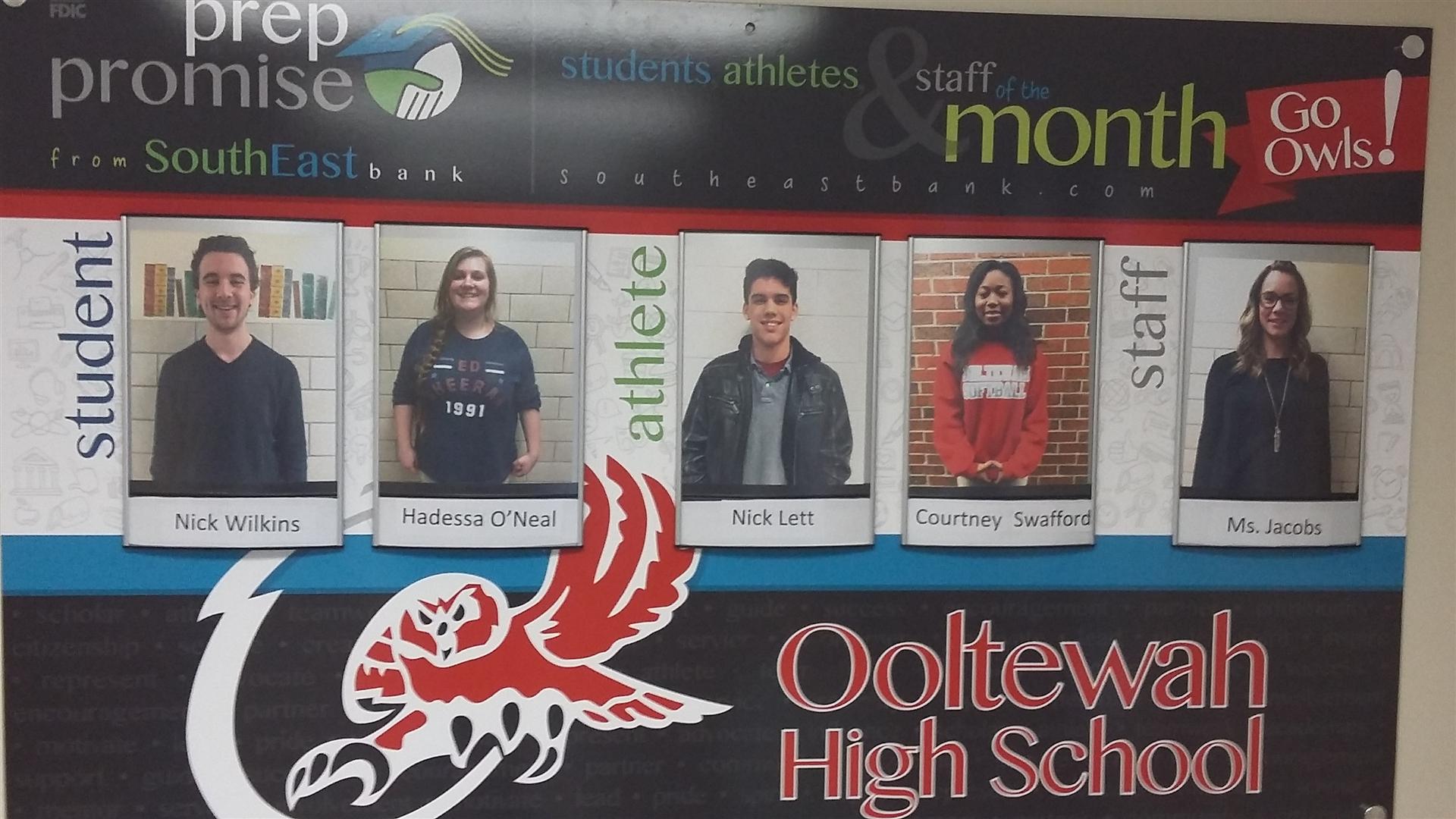 Athletes of the Month include:
Nick Lett
Courtney Swafford
Students of the Month:
Nick Wilkins
Hadessa O'Neal
Teacher of the Month:
Ms. Jacobs
DAILY ANNOUNCEMENTS
Want to show your special someone how much you care? Want to play a little joke on your BFF? Want to embarrass the mess out of your favorite teacher? Then come purchase a Sing-O-Gram for $5 in the Commons. They will be delivered during 3rd block Thursday and Friday.
Mock Trial- meeting on Tuesday and Thursday, Feburary 9 and 11, at 5:30 in the Library. WE ONLY HAVE 4 MORE PRACTICES BEFORE COMPETITION!!
Beginning tomorow, and every friday in february, the FCA club will be selling Chick-Fil-a biscuits before school starts in the hallway between the commons and the old gym. $4.00 each (supplies will be limited) **TODAY ONLY** Go to room 105 for biscuits- still $4.00 each. Remember, SUPPLIES ARE LIMITED
All Beta club officers need to meet in room 204 today after school for a brief meeting concerning the Beta Clubinduction ceremony.
All 2016 football players who play offensive line will meet starting today Monday Feb. 8 at 2:30 till 3:15. see coah bryan for more details.
Students that signed up for talent show crew, make sure to bring your $10 fee ASAP. Spots are filling up fast.
The OHS Talent Show auditions are scheduled for Monday and Thursday this week, February 8th and 9th after school. Mr.Miller will be in the commons during all four lunches this week with more info on signing up. Today is the LAST DAY to sign up for talent show auditions. Bring your $5 audition fee by the table. Dont miss out on your chance at winning $350 in cash prizes!
2016 football players who play offensive line will meet starting today Monday, Feb. 8th at 2:30 until 3:15. See Coach Bryan for more details.
Thank you to all the students who showed interest in the Talent Show Crew. The first 20 students to pay their Crew fee will be on the Crew. Hurry and bring your fee by the choir room this week.
Attention Teachers and Students: A coat drive will be held starting Monday, Febraury 1st. Bring in any gently used winter clothing and coats for a dress down pass. We will also need new coats for both boys and girls up to age 16. All efforts will go to help the needy get through the cold season. You can turn in your donations during lunch in the cafeteria.
Attention students: The 2015-2016 yearbook is now on sale! All yearbooks purchased before March 1st will be $80 and $85 after March 1.
Attention Senior Superlatives- please submit your information sheets to Mrs. Flynn ASAP if you have not already done so.
Attention Seniors: If you are waiting on some Balfour items, some have arrived and can be picked up at Mrs. Binder's desk. These items include hoodies, sweatpants, and key chains, NOT your caps and gowns.
Seniors: a limited number of personal senior ad pages are still available. See size and price options HERE. Please contact Mrs.Flynn at flynn_taylor@hcde.org for more info and to reserve your spot in the 2016 yearbook.

The Gay/Straight Alliance is meeting every Monday morning in the new gym at 6:30 AM.

Everyone

is welcome.
Seniors: Your Senior Fee is now due and can be paid at Mrs. Binder's desk in the front office.Senior Fee's are $30.00.Make checks payable to OHS. This fee can also be paid online.
National Honor Society

: All senior members must turn in their 20 hours of community service to Ms. Howe in Room 1E by Friday, April 17th.Please turn in community service hours during second block or after school.Seniors will only recieve their honor stole for graduation after the appropriate documentation has been recieved.
Congrats to the lady owls basketball team for defeating Hixon 62-24. We play tonight at McMinn! Go owls!!