Hoot Tube!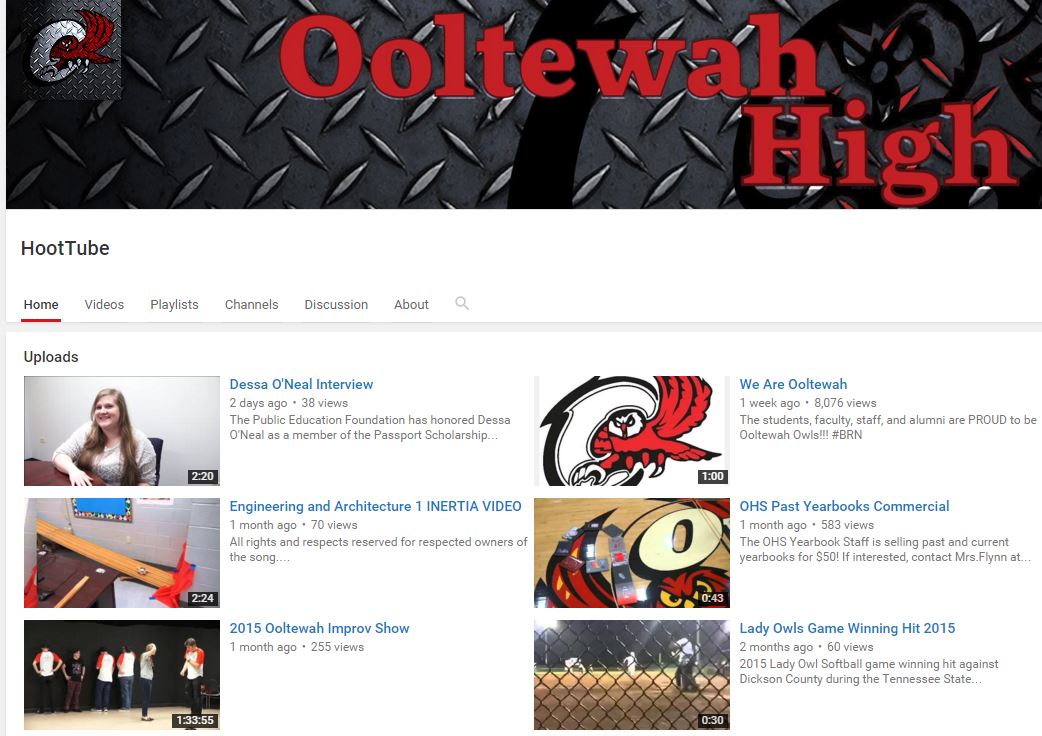 Click Above to find out what makes Ooltewah Great!
Graduation will be Wednesday, May 18th at 6:00 P.M. at McKenzie Arena!! Practice will be at 10:30 A.M. at McKenzie Arena
Parking Applications Available in Front Office
Click the picture above to watch the commercial for The Hoot Cafe smoothies!
Click the above picture to learn about our school beautification project!
OHS Yearbooks for sale from the 80s, 90s, and 2000's! Click here for more information!
Click Here to purchase a 2015-2016 Yearbook ONLINE

Click the picture above for the Family Connection!!!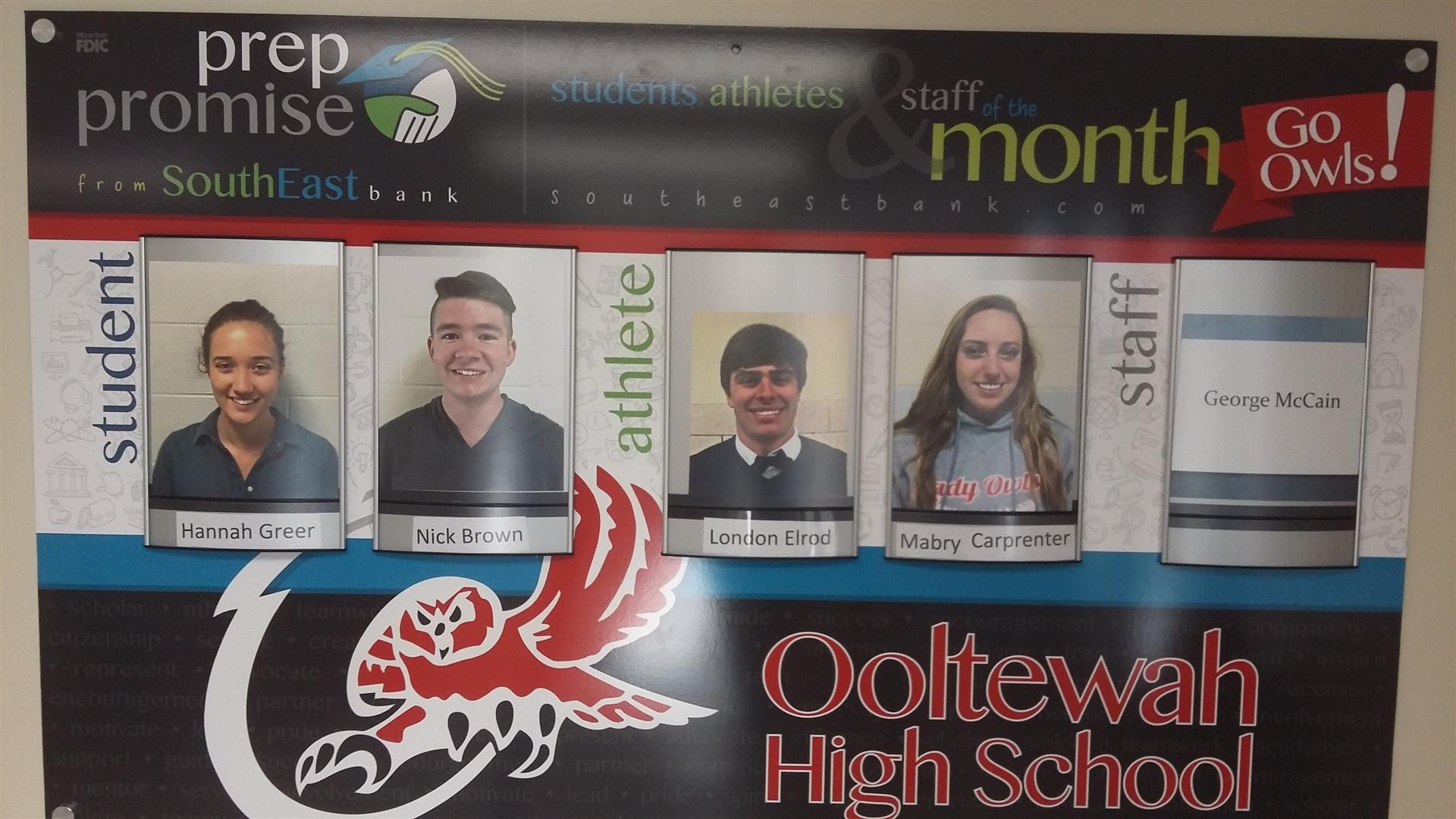 Congratulations!
Student of the Month: Hannah Greer
Student of the Month: Nick Brown
Athlete of the Month: London Elrod
Athlete of the Month: Mabry Carprenter
Congratulations to Emily Brown for the winning 1st place state wide in the Letters About Literature contest!
Congratulations to Jackson Malcolm on being elected Vice-President of the OHS Student Council. Jackson will serve as the Student Council President next school year.
DAILY ANNOUNCEMENTS
If you are interested in running cross country in the fall please see Ms. Jacobs in 1G after school this week!
FBLA members interested in running for an officer for the 2016-2017 school year, please see Mrs.Miller for an application. All applications are due by May 13th.
2016-2017 parking permits will be sold next week, immediately after school in the main office on : Wednesday, May 11 for upcoming seniors, Thursday for upcoming Juniors, and Friday for upcoming sophomores.
First Baptist on East 8th Street downtown is having a community event called Girl's Day for young ladies 12 to 18 years of age. If interested, go by the office to pick up information.
The final improv show of the year is Tuesday, May 3rd. This is your last chance to see your OHS Improv Team until next fall. Show starts at 7pm in the Little Theater. Student tickets are $5, and faculty members are free.
If any student needs volunteer hours, the Samaritan Center needs help on Saturday evenings clearing their back dock. This is a flexible time frame that starts 45 minutes after sundown and usually lasts 2-4 hours, but the student can stay as long as he/she would like. Call Bethany, the volunteer coordinator at (423)-238-7777.
The Balfour Representative will be there on Thursday, May 5th during advisory to take Class Ring orders. If you are ordering a class ring, please bring your $60 deposit on this day.
ACT Prep Club meetings will be held once a month on the first Friday of the month. The meetings will be held after school at 2:30 in Mrs.Bates' classroom, 2E. Anyone is welcome to come and see if you enjoy it. Takes nothing to join! So come help your ACT scores! .
Time-for-Time will now be held in the cafeteria daily, Monday through Friday, from 2:25-3:25. If you intend to serve time-for-time, then you must be in the cafeteria no later than 2:25. Anyone arriving after 2:25 will not be allowed to serve time-for-time on that particular day.
National Honor Society Seniors: All senior members must turn in a documented service hour sheet to Mrs. Howe in room 1E after school only by April 22, 2016 in order to receive an honor stole for graduation. All NHS members must have 20 service hours.
Beta Seniors: The Beta Club will award a deserving senior a $500 scholarship. If you have any questions please see Mrs. Maynor in room 204.
Seniors: Your Senior Fee is now due and can be paid at Mrs. Binder's desk in the front office. Senior Fee's are $30.00. Make checks payable to OHS. This fee can also be paid online.
Seniors: Graduation caps and gowns will be handed out on Tuesday, May 3rd and Wednesday, May 4th. Seniors with the last names beginning with A-L will pick up their caps and gowns on Tuesday and seniors with the last names beginning with letters M-Z will pick up their caps and gowns on Wednesday. Pick up times will be during all 4 lunches in the White Oak Room. Balance with Balfour must be paid in full and $30 senior fee must be paid. NO CASH PAYMENTS FOR SENIOR FEES WILL BE TAKEN DURING HAND OUT TIMES!
Seniors!! Click here for information regarding your senior surveys!