The JROTC Drill Team competed at the Red Bank HS Invitational on Saturday and won 5th place in the Color Guard category.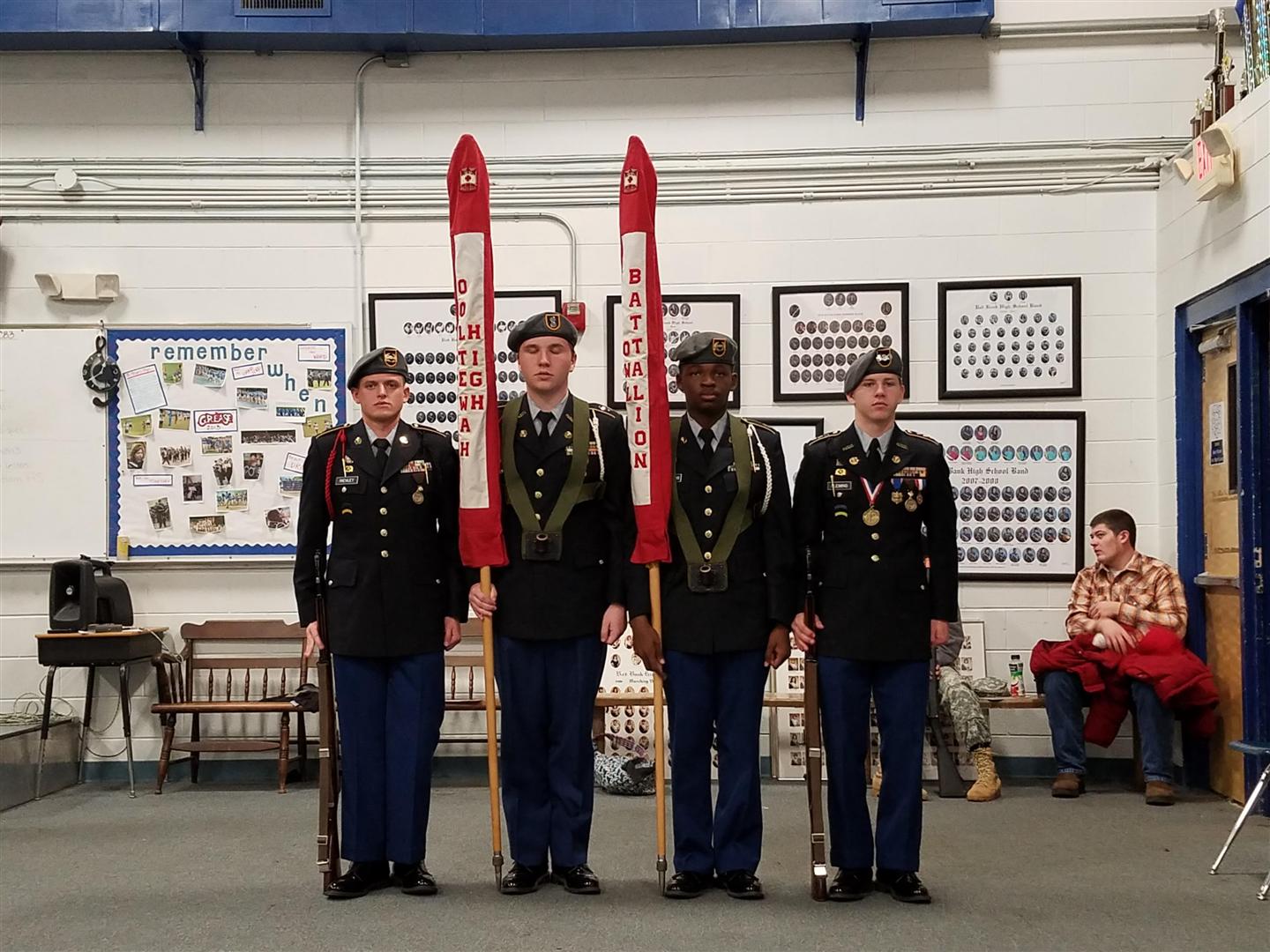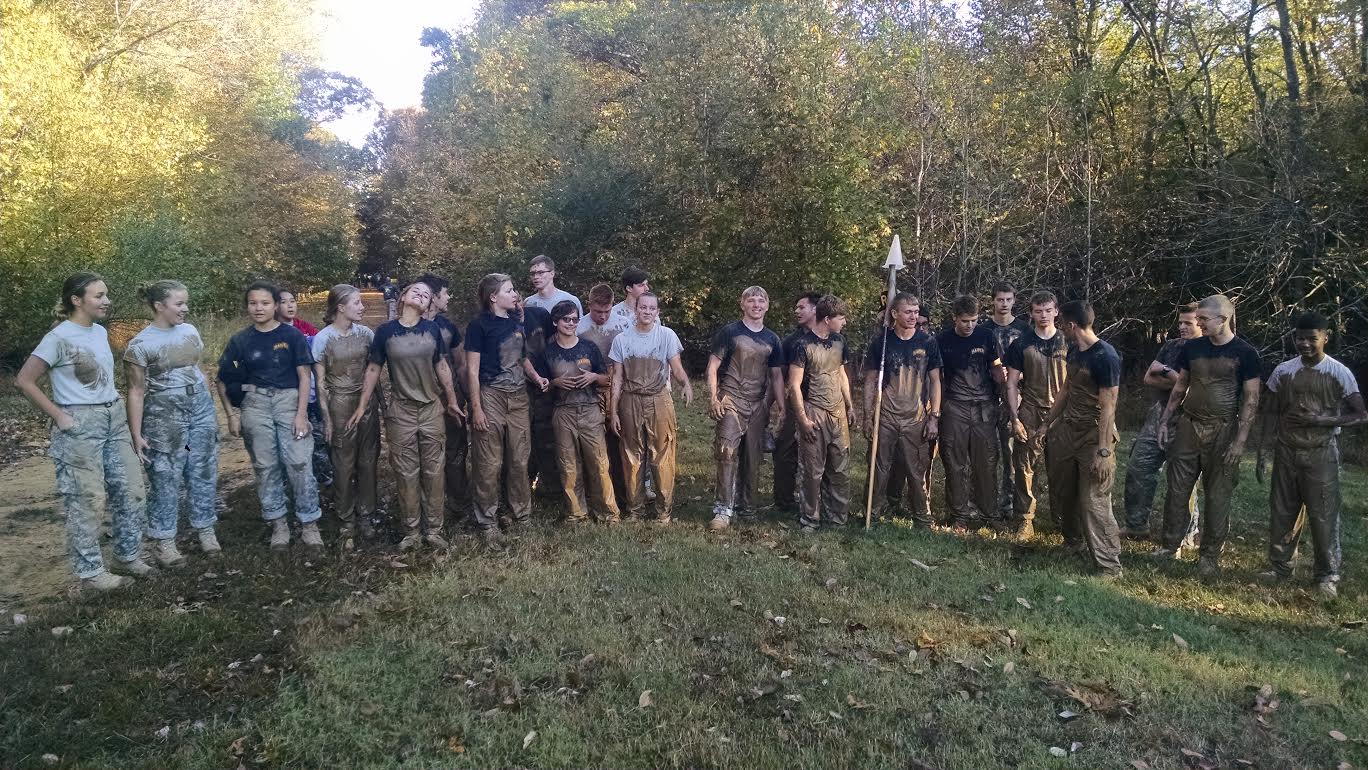 There is a lot of I in GRIT
Ooltewah High School JROTC participation in the Mid-State Commando Raider Competition. You have heard there is no "me" in team, referring to the fact that an effective team is a cohesive group and not a collection of individuals, but I submit that a really effective team is a cohesive group of "gritty" individuals. GRIT, as the psychologist and former teacher Angela Duckworth describes, is a combination of passion and perseverance. She has studied this concept extensively and believes GRIT is what makes people successful. One of the consistent traits of "gritty" people is participation in sports or other teams, especially for two years or more, so it is logical and cyclical that people become gritty participating in teams and teams do better because of gritty people. I had the privilege to experience true and raw GRIT this past weekend at the Mid-State Commando Raider Competition. Raider teams from all over the Southeast, consisting of ten member all-male, all-female or coed members, camped in tents from Friday night until Sunday morning at the Boxwell Boy Scout facility in Lebanon, TN. The competition consisted of six events which tested the physical and mental fortitude of every participant while at the same time testing the cohesion and synergy of the teams. The Ooltewah High School JROTC Raider team, coached by 1SG Mike McCullough, entered one all-male team and one coed team. This is the first year Ooltewah High School has ever had a coed Raider team compete outside of county competitions. I attended the competition as a parent of one of the all-male team members and was able to run along and take photos of both teams throughout the day. Many other parents also drove the two and half hours each way to watch and take photos of the events. One student's mother exclaimed "I got to watch some very strong, determined and quite amazing kids work together as a TEAM!" Both teams consisted of Raiders and Raiders in training from 9th grade to 12th grade. With very different strengths and weaknesses, the only way for a team to really succeed was to recognize these differences and work with them. The coed team, by virtue of their composition, had an even greater dichotomy of capabilities and therefore, a greater need for teamwork. This manifested itself most evidently during two of the last three events when the nearly exhausted teams were required to run for two miles on a road course and then later had to run 1.3 miles through the woods each carrying a 35lb backpack. As I ran along these high school students I saw the very definition of GRIT. I saw passion like I have never seen it before. These kids love being Raiders and love competing for themselves but even more for each other and for the whole Raider team. I know they were all thinking about making their parents and 1SG McCullough proud. Like passion, the word perseverance is just a word until you see it in action. I literally saw blood, sweat and tears pouring from these teenagers. During the 2 mile road run the students would hold hands and assist each other. When the pain for a couple runners started to seem unbearable a conversation about food would distract and then somehow encourage them all to push on. During the 1.3 mile trail run with 35lb backpacks Raiders would take the packs from others to offer a quick respite in order to keep the pace. The motivation from the front and the encouragement throughout the team was ceaseless. Even as the last Ooltewah team crossed the final finish line of the day, the encouragement and passion radiated from every Raider. By the end of the weekend the GRIT of the first ever Ooltewah coed team persevered and took 2nd place overall! Ooltewah's all-male team also did exceptionally well and took home 7th place over all. Each and every member of the Ooltewah Raider team is unique and they are all on their way to becoming very gritty. Together they make up a TEAM spelled with GRIT.
The objective of the JROTC Program is "to motivate young people to be better citizens" by providing instruction in and application of good citizenship and character, responsibility, leadership development, self-worth, communicative skills, problem solving, discipline, respect, ethics and wellness of body, mind and spirit-attributes which will benefit the student, the community and the nation. The program is based on a systematic progression of learning that is designed for the cadet's development and maturity at each grade level.